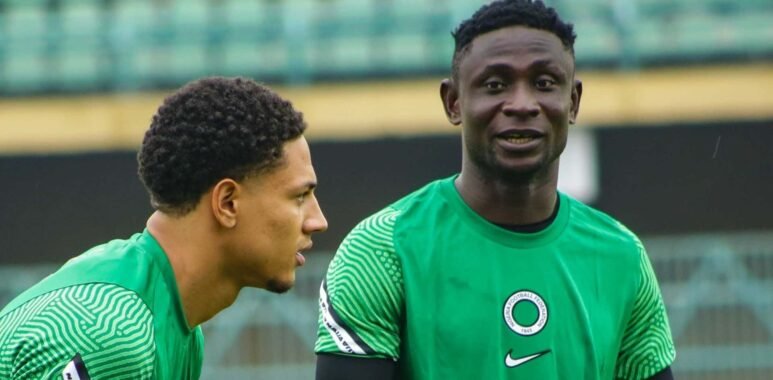 AFCON 2021: Enyimba's John Noble Extols Unity In Super Eagles Camp
Enyimba and Super Eagles goalkeeper John Noble says there is a high level of unity and friendship in the team's Garoua camp at the ongoing 2021 Africa Cup of Nations (AFCON) in Cameroon, adding that the 3-time African Champions 'work together as a family'.
The shot stopper who is the only home-based player in the team's 27-man squad disclosed that he has enjoyed same treatment with the foreign-based professionals.
In a chat with www.enyimbafc.net ahead of Nigeria's Round of 16 tie against Tunisia on Sunday, the 28-year-old former ASC Kara of Togo goalkeeper says he is optimistic the spirit and atmosphere in camp will help the Super Eagles 'go far' at the AFCON and beyond.
"Knowing too well that we are all Nigerians, there is no two ways about it, everyone has been cooperating and we have been working together," he said. "The feeling has been amazing. We work together as one family always.
"They (the foreign-based professionals) don't look at me as, maybe, I'm coming from Nigerian league and they are playing outside. Nobody looks at that. What we do is everybody work together as a family, and that has been keeping us going forward.
"If you watch our games, there have been a lot of changes. That's as a result of the togetherness in the camp. That's what has come to stay.
"And trust me, with what we have, I strongly believe that we will go far this year."
The Enyimba safe hands said he is very excited to be part of the team in Cameroon, adding that he is relishing the AFCON experience.
"I feel very happy to be among the great family," Noble added. "And I really appreciate God for that.
"And here has been amazing, like working together in training and everything. The way we talk, it has been amazing. We have got to know each other more and everything has been going well."