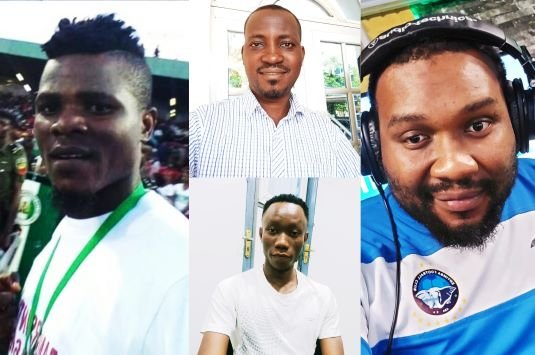 In their voices: discussing the missing piece of the Enyimba puzzle
Fourteen points off the leaders and five short of the CAF spots, but the Elephants still have 21 games to turn what has so far been a difficult season around.
Exactly what do the Elephants have to do to turn things around, at least in the remaining matches before the midseason break?
Enyimbafc.net picked the thoughts of journalists, a fan and an ex-player on what might just be the missing piece in the team's puzzle.
Dozzy Adiukwu, long term Enyimba fan
"Enyimba is playing beautiful football this season – we control the midfield, we are always the ones attacking, putting pressure on the opponents – but then that doesn't win games. What wins games is goals, and that's what we are lacking.
"We need to be able to convert the chances that we are always creating. Defensively we are okay, we are not bad; we could be better, yes, but then our strikers need to learn to convert the chances that we are creating… because you watch a match we create over ten to twelve, fifteen chances but then we only get to score one goal. It's appalling.
"So if the coach needs to try fresh legs, bring in new people, or we work on the team psychologically to try to boost these guys up because if we don't get to score goals we will keep on drawing and losing matches and that's not going to get us anywhere.
"We need to show the country that we are giants, we are Enyimba, we are made of greatness. We need to show this greatness. We need to be able to score goals and not just score goals and win matches, but we need to score a lot of goals. We need to show them what we are made of."
CHIMEZIE AMANFOR, former Enyimba midfielder
"Enyimba is just like talking about success – the people, the fans, the management and the players. I think these players should know this first. Enyimba is just like a theatre of dreams for every upcoming Nigerian player.
"In the 2013/14 season, Imama Amapakabo would always say to every player in the pre-match talk: "You were the best player in your previous teams and that attracted Enyimba to lure you here. Those things you do that made Enyimba bring you here, don't add, don't subtract. Be the best of your kind."
"I think at the end of the season we won the FA Cup and came second in the league with one of the most difficult records kept by any team in Nigeria – 19 home games, clean sheets. We didn't concede any goal at home, all thanks to those wonderful players led by Chinedu Udoji.
"What I am expecting from these players now, starting from the next game is for them to make a decision, 'if we don't score we are not conceding and even when we concede we must equalise and win this game.'
"When you have all this mindset, when you think this way, you will be able to do things that people don't expect from you. You do things that when people hear about the result and how you played, they will be so glad to be your fans and your supporters. Hopefully when they try all this stuff, at the end of the season they will come out victorious."
FISAYO DAIRO, chief football writer, Aclsports.com
"The story of Enyimba's season so far has been one of so many goalscoring opportunities missed by the attackers, but for me, what needs to change at the moment is the team conceding goals. Enyimba have conceded at least a goal in each of their last six league matches. That has to stop.
"Goalscoring is a problem in the league but non-conceding of goals is what has made teams like Rivers United and Plateau United to be where they are. And that was how Enyimba started this season – keeping clean sheets in continental and domestic games. They have to revisit that and make sure that they stop conceding goals (because) inasmuch as you don't concede a goal, you are still in a game, you still have the opportunity to win a game and that is what the team must do should they get credible results in the games against Plateau United and Wikki Tourists."
EMMANUEL ETIM, head of sports, Nigeria Info FM, Lagos
"It's not been the sort of season one would have envisaged if you consider the quality in the playing personnel added to the team just before the start of the campaign.
"Now you look at the records and the results, just one win in six matches and seven overall in seventeen games. It's almost unforgivable in Enyimba terms. You also considered the fact that they would have altered in terms of goalkeepers – Noble, Ojo, Bassa Djeri – and the team still conceded almost every matchday. It's bewildering.
"Top scorers on four goals, we have certain teams in the league who have players who have obtained double figures. I think that's disappointing.
"For a start, they've got to bring back that fear factor to the Elephant Park (Enyimba Stadium). Teams shouldnt come to Aba and feel excited to walk away with points. We start from there and the points will start coming through."