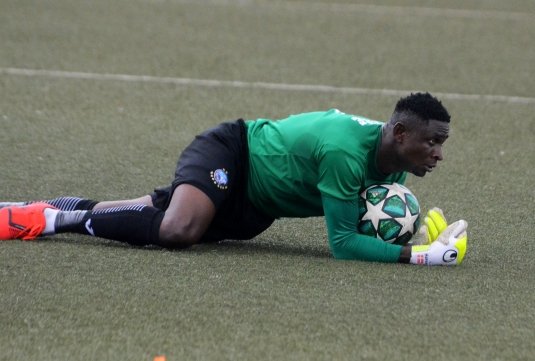 John Noble – I feel at home here
John Noble is 'honoured' to represent Enyimba FC, a club he believes has shot his career to the next level.
The goalkeeper has delivered some heroic performances for Enyimba this season Which have earned him invitations for Nigeria's last five international fixtures.
Noble joined Enyimba at the beginning of the current campaign after completing a switch from Cameroonian side, Panthere Sportive, and believes that playing for the Nigerian champions was what put him in the spotlight for national team recognition.
"I think everything started for me when I joined Enyimba. It was a very good move for my career," the goalkeepers told Enyimbafc.net.
"I had never been anywhere close to the national team before but after my first few games for the club, the Super Eagles coach noticed me and invited me.
"I am always honoured to represent this club because I see Enyimba as a platform that has taken my career to the next level, and I am very grateful to everyone at the club. The players, coaches and management have been unbelievable. Everyone has been very supportive and I feel at home here."
HE IS A MAN OF HIS WORDS
Noble was also full of praise for the Chairman of Enyimba FC, Felix Anyansi Agwu, describing the multiple award-winning football administrator as a man of his words.
"Our chairman is like a father to all of us. I remember when things were a bit rough with us, he called us and explained the situation to us. I remember how he kept all the promises he made. He is a man of his words.
"He loves the club so much that he can sacrifice anything for the team and the players. I remember when I was invited for the friendly matches in Austria. Our flight from Owerri to Abuja where we would join the Super Eagles fell on a day that there was no movement in Owerri, but he did everything to ensure that we caught that flight. That was impossible.
"As a player, you just want to be around passionate people like him because that alone can inspire you to give everything for your team"