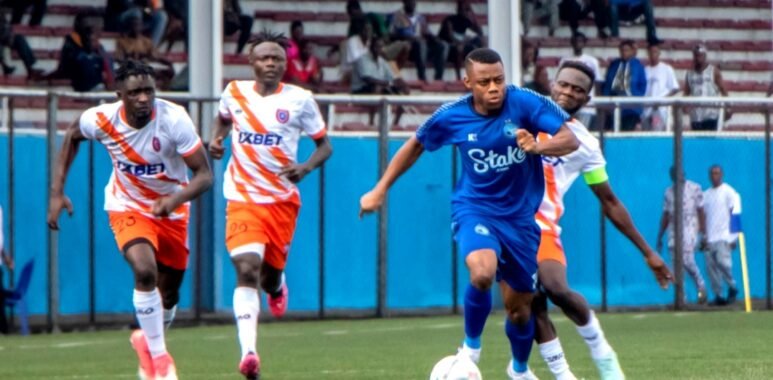 NNACHI CONFIDENT OF SUBSEQUENT IMPRESSIVE DISPLAYS AHEAD OF AFL CLASH
Winger Chidiebere Nnachi says he will work very hard to ensure he sustains the momentum after making an impressive home debut against Akwa United on Sunday.
The 20-year-old was handed a starting role as the reigning Nigeria Premier Football League champions reignited their title defence with a hard-fought 3-2 win against the Akwa United.
Despite his relative inexperience at the big stage, the youngster put up eye-catching displays, which have been earning him rave reviews by fans and stakeholders alike.
Speaking ahead of Enyimba's African Football League quarterfinal fixture against Wydad Athletic Club this Sunday, the dazzling winger said:
"I intend to work extremely hard to maintain that level of performance I displayed on Sunday. I also need to be focused, so I can continue to get the praises I received after the match against Akwa United."
Reflecting on his performance against the former NPFL champions, the youngster, signed from Top-Level Football Academy, said.
"I am very happy playing for Enyimba and I did my best in my first home game for the club. I am equally happy that the fans were impressed with my performance. And I hope this can continue for a long time."
Playing for a huge club like Enyimba comes with a lot of dreams, aspirations and expectations, and having set a target of scoring 10 goals this season, Nnachi is already looking forward to winning titles with the 2-time African Champions, who will be playing in the inaugural African Football League (AFL) this weekend.
"We will achieve so many things this season," he said.
"My target is to score at least 10 goals this season and to also help the team win titles to make the fans proud."
The most successful club in Nigeria, Enyimba have won a record 9 league titles, 4 Federation Cups and multiple Charity Cups.
On the continent, the People's Elephant remains the only Nigerian side till date to win the CAF Champions League (in 2003 and 2004), in addition to 2 CAF Super Cups.