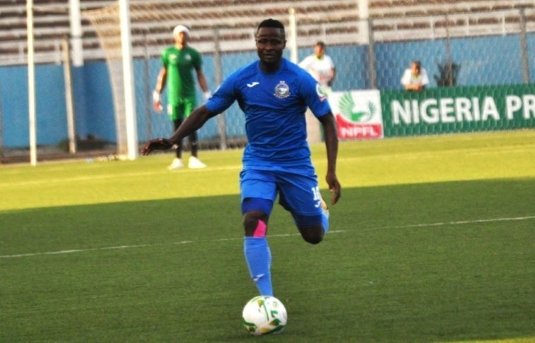 Creativity, optionality and versatile – three amazing things Guera's return offers the squad
Before making a substitute appearance in the game against Warri Wolves, Beninese midfielder Jean-Marie Guera had spent almost all of the 2020/21 campaign recovering from a knee injury.
Guera had made an impactful substitute appearance in the Champions League fixture against Al Merreikh in January and surely won the heart of Fatai Osho with that performance, but a relapse on a knee problem meant that the 24-year-old would spend the next six months on the sidelines.
Although he made some matchday squads, Guera did not gather enough freedom from the injury to be thrown into the fray until Wednesday's 1-1 draw against Warri Wolves when he was an eightieth minute replacement for Austin Oladapo. As always, his quality during those ten minutes could not be unnoticed.
It is obvious that Osho rates him massively, reason the gaffer is slowly bringing him into the scheme of things.
Osho also knows how to man-manage Guera, and understands how important it is not to rush him – because he also knows just how important the midfielder will become to his team.
Surely, the midfielder provides Fatai Osho another weapon in his armoury, but where would Jean-Marie fit into this current team and what does his return offer?
THE NUMBER TEN ROLE (CREATIVITY)
This position has been important for Osho for much of the season, with the role often played by Austin Oladapo or Olisema.
When the gaffer wants the 4-2-3-1 formation, the number ten role adds an attacking dimension for Enyimba's play, and is important in providing support to the front man.
It's the type of position where Guera would be well suited, with his power and ability a real issue for defenses when he runs at them.
Guera has a decent space awareness as well, meaning he would work well in the gap between the midfield and front line, which is important for the system.
Interestingly, Jean-Marie Guera isn't lazy, nor does he lack the energy to be a box to box high pressing midfielder, he absolutely has that in the tank.
LEFT OF MIDFIELD (OPTIONALITY)
Sometimes in a regimented 4-4-2 under Usman Abd'Allah, Guera was used as left sided midfielder. Although options did abound on the left of the midfield as there was competition from Austin Oladapo and Ibenegbu Ikechukwu, Jean-Marie Guera brought an attacking edge.
‌While Jean-Marie Guera has more attacking instincts, he could provide a good balance to the team and provide a different edge. He can defend, attack, dribble, has an eye for a creative pass, can shoot, score and get assists. He is an all round midfielder with bags of talent and is far from one-dimensional.
ON THE WING (VERSATILITY)
With the battle for the NPFL title and continental tickets getting more intense every week, coupled with the unavailability of some wide players, Guera can give Osho another dimension in the front three and out wide.
He may not have the pace as the likes of Orok Gabriel and Anayo Iwuala, but he does have a lot of power and skill to worry full-backs.
CONCLUSION
Guera's quality has never been in doubt, and one thing remains clear – the more he plays, the more of his elite excellence we will see. He will be essential for Enyimba in diverse situations.
Although Guera has struggled with regular injuries for most of his time at Enyimba, he has worked hard and now needs to stay fully fit and injury free. Yes, he needs to get comfortable out on the pitch and confident enough to start playing with the swagger he so often plays with. But once he gets there, we have a world class player on our hands and you'd be a non football person to write him off!