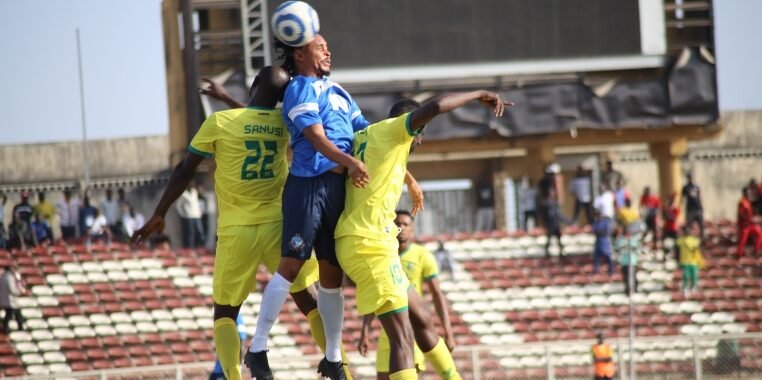 Kano Pillars 2-0 Enyimba: Elephants lose grip despite promising start in Kaduna
Enyimba failed to make the most of early dominance and were punished for sloppy defending as Kano Pillars ran out 2-0 winners at the Ahmadu Bello Stadium on Sunday evening.
Enyimba looked sharp off the block and quickly stamped authority on the fixture but were eventually pierced through by Rabiu Ali's penalty in first-half added time before Kokoette Udoh sealed it for the hosts after the restart.
Chances were not few for the Elephants from the set off as the lively Sadiq Abubakar, in his usual effervescence, ran behind the opposition with ease but was often undone by his final balls.
Victor Mbaoma also had his moment when he was played through by a lobbed pass, but was choked out by the recovering backline.
Olorunleke Ojo proved vital when the hosts began to settle in, sticking out his leg to block Sanusi Kabiru's near post strike before going full stretch to tip Rabiu Ali's free-kick away.
Enyimba's ambitious first-half showing was, however, dented by an added-minute moment of sloppiness that gifted the hosts a penalty, decisively struck by Rabiu Ali.
Enyimba were made to pay for another careless moment when Kokoette Udoh picked Olorunleke Ojo faulty clearance to lob into a yawning net.
Ekene Awazie almost pulled Enyimba back into it with a volley that crashed against the upright before substitute Emeka Obioma was denied by a desperate block.
FINIDI GEORGE'S POST-MATCH COMMENTS
"No excuses, we've lost; but in a game like this when we want to win and we had the chances to have scored maybe two or three goals in the first half but we didn't take them, that gives the opponents the courage to come at us and that was what happened – they got a penalty and they woke up.
"They were a wounded team but if you give them that opportunity to come back into the game they will do that.
"(It is) just for us to see how we can get ourselves back and make sure we can win our home game. There is no excuse."